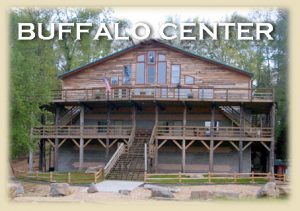 Shepherd of the Ozarks' Buffalo Center is perfect for your Meetings, be they Corporate or Worship or Fun.
This 20,000 sq.ft. the center includes a full-service Dining Roon, a 500-seat Auditorium, a Loft for smaller gatherings, and 4 Lodge Rooms.
THE PLACE TO MEET
Located at the center of our grounds, The Buffalo Center is the place to meet. Ideal for conferences, presentations, music, movies and more.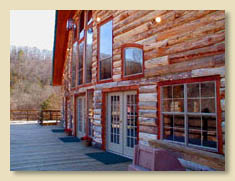 SPACIOUS DECK
Enjoy the spectacular view from the deck just outside of the Dining Room.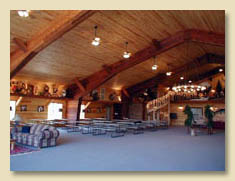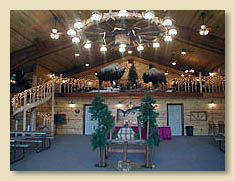 THE DINING ROOM
This full-service Dining Room features vaulted ceiling, mountain lodge decor and a spectacular view of bluffs and forest to comfortably seat groups up to 300. Mounted trophy wildlife includes 2 full-body Buffalo. Most importantly, meals served to receive consistent rave reviews!
THE LOFT
This coffee bar and lounge accessible from the Dining Room by a circular open staircase is designed for a smaller group's dining and meeting needs. It is furnished with a sofa, round tables, a big-screen TV (videos only) and a bar for soft drinks, coffee, tea, etc
THE AUDITORIUM
On the ground level, the Buffalo Auditorium is designed for group meetings with multilevel tiered seating and raised stage large enough for a band or choir. State-of-the-art sound and video systems including wall-mounted 9×12 ft. projection screens are perfect for your programming needs. The Auditorium can be arranged to comfortably seat groups of 30 to 300. Baby and Tot Nurseries overlook the room.